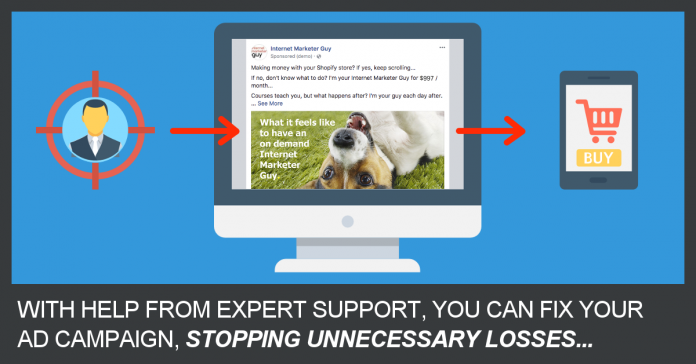 Most

Entrepreneurs

that

need

to

get clients

suffer from the same Facebook ad issues, they just don't know how to

find the right person to fix them

…
It's important to preface first, there's a difference between hiring a Facebook Ad Expert to manage your Facebook advertising inbound traffic campaigns and hiring a Facebook Ad Expert to help define the strategy and setup the campaign structure. I am going to discuss in detail the benefits of both, but I really want to empower you, therefore, I am going to define the benefits of not letting someone else manage your campaigns for you.
Important
It's understood that some entrepreneurs sometimes are very knowledgeable in business, marketing in general, or they're just technically savvy. Sometimes, Facebook advertising seems daunting, therefore, there's this feeling as though you just want to find anyone to fill that void in your skill-set. Don't just find anyone, and certainly don't just give access to your campaigns to anyone that is willing. You don't want to be in a position where you're paying the cost of someone else's mistake, especially when they provide nothing in the form of validity.
Symptoms
Just like when you get really sick and you go to the doctor, you're asked a series of questions regarding your condition, specifically about how you feel, this helps in determining what your ailment is. We can do the same with your Facebook campaigns to determine their health, let's start with the symptoms, what is it you're experiencing:
– Ads Denied
– Low Ad Distribution
– Low Ad Response Rate
– Low Ad Engagement
– Low Landing Page Engagement
– Low Conversions
– High Ad Costs
There are a lot of assumptions that are being made with the above symptoms. Besides the fact that there is a certain technical expertise that is needed to setup a landing page, analytics, campaign tracking, and more importantly the Facebook ads themselves, there's the assumption that it wasn't set up by a Facebook Ad Expert. So, that's how we're going to approach this, as if it wasn't done by a Facebook Ad Expert.
So, you're probably suffering from some of these symptoms, or maybe all of them, this is why your looking to hire a Facebook Ad Expert. Before we get into the differences, let's discuss each of the symptoms and why they are appearing.
Ads Denied
Facebook has very specific guidelines that you need to follow when you're setting up a new ad. First, you need to understand that there are certain categories that are just not allowed to be advertised on the platform, therefore, if you operate in one of these dubious categories, you're probably not reaching symptoms #2 – #7.
Second, there is specific text, or statements that you can't use in your ad. Text, such as "make money" or "lose weight" will have your ads flagged for review. Statements, such as "System for Making Millions" or "Lose 30 Pounds Tomorrow", fall into the unsupportable statements category, these types will also get your ads flagged for review…
The image is most often overlooked as a key reason for an ad being denied, mainly because Facebook generally allows text on 20% of the actual space. With that said, most people try to get really creative with the text, but sometimes fail and cross over the threshold. If your ad does cross over that threshold and is not denied, it still may suffer from low ad distribution…
An alternative to using an image in an ad is using a video in it's place. The video, either professionally produced or shot by you, it's going to have to meet the Facebook guidelines…
[get_segue key="ondemand_only" pos="1″]
Low Ad Distribution
You probably look at your Facebook campaign and see trickling responses to your ads and your wondering when your going to see that hockey puck spike growth. Well, there are probably several things that are wrong with your ad campaign…
First, you're probably targeted to the wrong audience. You might have targeting that is set for an audience that is probably not even interested in your product. They may be the complete opposite of what you're looking for in an audience…
Second, you're targeting an audience that is too small in size. Let's say you're targeting a viable audience, but you may still have targeting incorrectly setup, where you're only targeting a segment. If your not properly setting up the audience for scaling, then you're never going to see sizable growth…
Third, your message is probably wrong. Your audience should dictate how they want to be communicated to. From the message idea, to the tone, to the level of commitment, they are going to let you know by either engaging with your ad or completely ignoring it…
Low Response Rate
If your ad is experiencing a low response rate, excluding the obvious of it being distributed to the wrong audience, your message may very well be ineffective in general or as it pertains to the current stage of qualification of the prospect.
If you don't understand the importance of qualifying your prospect, using the right tools, and messaging, then your response rates are going to continue to be lackluster. Using the right text in your ad copy, the length, and a strong call-to-action will increase your response rate, but if your offer is not providing value, then the prospect expectations are not going to be met.
Low Ad Engagement
If the social engagement of your ad is low or non-existent, then you could have a variety of problems that are occurring at the same time, such as the wrong targeted audience, the wrong message, and poor offer. Some ads are just not going to perform well for social engagement, but this can be a sign of other issues, so it remains important to track…
Low Landing Page Engagement
Again, assuming that the audience, messaging, and offer are acceptable, if your landing page engagement is low, then there are probably a number of things that are wrong…
First, you probably are not translating the message from the ad to the landing page correctly, more specifically said, the messaging must be congruent to maintain the attention of the prospect and exhibit trust…
Second, your offer may not be the focal point of the landing page. Ideally, you have one offer per landing page, where variations are presented in a comparison visual. If you have competing offers, then you have options, and options are death to a conversion…
Third, you probably don't have a strong call-to-action. You really need to tell your prospect what it is you want them to do, if you have their attention, then communicate your intended response…
Fourth, if everything is done right, it's possible that you have a technical issue with your landing page. Using analytics or even heat-map technologies, you can see where your prospect is dropping off, maybe it's on the landing page or at the checkout page…
[get_segue key="ondemand_only" pos="2″]
Low Ad Conversions
If your conversions on a landing page are low, assuming the offer is prominently presented, it's well supported with benefits and testimonials, and the strong call-to-action is present, then the obvious question to ask is, how do you know conversions are low?
If you're using multiple traffic sources, such as Facebook and Google, you should have campaign tracking, analytics, the Facebook pixel setup to be able to determine the behavior of your prospects. Now, if it's setup properly, you should be able to see that Facebook is sending over prospects, and you can view in those reports if there are any conversions.
High Ad Costs
This is a common problem, where ad costs are actually increasing over time. The reasons why your ad costs could increase are the following;
– Wrong Target Audience – If you did not properly target your audience, the the ad is going to have a low engagement.
– Low Ad Engagement – If you have a low ad engagement, then it could receive negative feedback, causing your relevance score to be low.
– Relevance Score – If your relevance score is low, then Facebook is going to charge you more to run your ad to your audience.
Those are your symptoms explained, but not necessarily all the symptoms that you can encounter. These are questions a Facebook Ad Expert would ask you about your campaigns but, there are questions that you should ask them as well and these symptoms are an important topic to start with. Also, symptoms are not isolated just at your campaigns, your landing pages, and technical setups are important to discuss as well.
Searching For a Facebook Ad Expert
With such a large community and such a wide range of advertisers wanting to run their ads in front of it, Facebook creates a very unique opportunity for experts that can use the platform to place and manage those ad campaigns. While there are many that can do the job, there really aren't a lot of experts that adhere to a disciplined strategy…
Who you don't want…
A real Facebook Ad Expert doesn't just have a vast knowledge of how the platform works, but they also operate on a daily basis managing campaigns for their client's or their own. Shallow knowledge of ads management and less experience in working Facebook campaigns isn't going to give you the business effort you're looking for…
Who you want…
That person that doesn't do much to manage a Facebook ad campaign is not who you want. You really do need a repeat ad expert that can isolate each of the parts of an effective ad campaign setup, identify which elements would support your offer, and create the ad hierarchy that produces the conversions that lead to sales…
Where do you find them…
If you're serious about your business and apply a professional mind to those decisions that make it successful, then your going to be proactive about not just finding a Facebook Ad Expert, but also keeping track of those experts that are considered authority figures…
Aggressive tactic…
There are a wide variety of Facebook authority ad experts that are accessible through their social media and blog sites and offer really good insight into the intricacies of ad campaign management. While these authority ad experts are the perfect people to target for helping with your Facebook ads, they are not always the most ideal, mainly because they are highly sought after or they may have prerequisites for a client that you may not meet…
The better method is to find the best authority ad experts and follow their social media and blog posts and engage with them. Ask them questions in their comments section, learn as you engage with them, show them that you're interested in their content. Don't be afraid to ask for their advice, you might have a unique offer that needs special attention when setting up a Facebook ad campaign, their feedback will be valuable in gauging their interest in you…
You're going to start building a relationship with these authority ad experts and when you feel the time is right, ask them about their availability or ask for a referral for an ad expert that can help you. The most common scenario, the authority ad expert will refer you to one or two colleagues that they know can help, given your needs and the stage of your business. You may not know it, as you were commenting on their posts, you were already amongst ad experts. The people that comment on those posts are ad experts that also follow the authority ad expert. You can find their social media and blog posts and go through the same process of engaging with them…
If you keep searching for those ad experts, your going to find that you have a long list that you can contact, opportunities to introduce yourself, and find the best person to help with your Facebook ad campaigns. This will all take a reasonable amount of work and time, so the best way to start this process would be to do it before you need to, that way you have really good, talented ad experts that you're comfortable with and they will have an understanding of who you are and what you need…
Passive tactic…
A much easier method, but still time consuming, is to search for these ad experts in Facebook, LinkedIn, or other social job sites where they may have added a job title to their profile. With some reasonable effort, you can find a list of ad experts that you can then use to explore their social media profiles or blog posts and determine if they initially meet your requirements…
To begin, your going to need to use a list of potential job titles that would likely be associated with the management of Facebook ad campaigns. Keep in mind, that some startups use colorful job titles that sometimes don't seem to correlate with the job itself, in this case you might want to proceed with a list of skills or responsibilities…
Also, take into consideration that certain job titles are not as effective to be searching for, such as a Vice President or Director level position. They very well may have the skills, but they are less likely to have worked on a daily basis on those campaigns, unless they specifically detail it as a skill or resulting responsibility;
Here are some examples of job titles to search for…
Facebook Ads Manager
Facebook Ads Specialist
Facebook Buyer
Social Media Manager
Growth Hacker
Here are some examples of skills to search for…
campaign budgeting
build target audience
write ad copy
scale ad campaigns
ad retargeting
track, report, and analyze ad performance
website analytics
Here are some examples of responsibilities to search for…
identify product market fit
set social marketing budget
set ad campaign goals
optimize ad campaigns
increase conversions
increase per customer sales revenue
Start with LinkedIn…
If you're starting with LinkedIn, you're going to search for job titles that pertain to Facebook ad campaign management. Even with an accurate job title, you might not get search results that continually relate to Facebook ad campaign management, since these profiles might contain the Facebook name somewhere in their body. This isn't a bad thing, just add them to your list, and continue searching…
You might want to also search for companies that you may know advertise on Facebook, while large companies are obvious and could be valuable, search for regional and even local companies that are active advertisers. You're going to get a much larger list of prospect Facebook Ad Experts and they will also be accessible and more open to working with independent projects…
Continue with Facebook…
If your LinkedIn list is complete, you can do the same type of searches for People on Facebook. As you start your searches, your going to find that you also have access to learning what each of these people like, who they follow, and even see recent posts. Your objective is to find someone that matches the Facebook Ad Expert profile that you're looking for, but at the same time you might find someone that is more of a connector, that leads you to that right person…
The emphasis is to not just have a list of potential candidates, but also starting points where you can continue your searching for an ad expert. Facebook has a huge community that expands across borders and bodies of water, so your going to have access to more ad experts than just those that reside locally. As long as you know what you're trying to achieve, finding the right number of prospect ad experts will be equal to the amount of effort you want to put into it…
Lazy tactic…
Perhaps the easiest method for finding a Facebook Ad Expert is to use the most popular contractor marketplaces. Most of the effort has been removed when you use one of these marketplaces, mainly because they are setup to allow many contractors and clients to be able showcase their skills and job postings…
You need to first ask yourself if you need an ad expert for a short-term or long-term basis. Most marketplaces and the contractors that offer their services through them, work on a per project basis. You can mimic a long-term agreement by continuing to expand the scheduled and end date of a project and adding to the project requirements…
These marketplaces work with contractors from all over the world, so your costs are going to see a downward push as you begin considering contractors from less developed countries. While these contractors from the far reaches of the world may consider less payment for work performed, it doesn't always mean that they have less knowledge. Your need is for a Facebook Ad Expert, if you're considering using one of these marketplaces, your budget will determine just how much you can afford…
Here is a list of marketplaces you can use…
Upwork.com
Freelancer.com
Guru.com
Fiverr.com
Freeup.com
Proactive tactic…
To take all the effort out of searching for a Facebook Ad Expert, you can just post a job on one of the many different job sites. If you choose to go down this route, your going to be committing to a part-time or full-time position to be filled by an ad expert, for an extended period of time. But, the qualified ad expert is going to find your job posting and contact you…
If you choose to use one of the job sites to find an ad expert, than your needs should be beyond just a single ad campaign, you're going to be doing this because your looking for ad campaign strategy, management, and analytics. Ideally, this level of commitment is coupled with a specific growth strategy for your business, so it's not just a brief thought for help, but rather a long planning process to ensure that your objectives are met…
Here is a list of job sites you can use…
Indeed.com
CarrerBuilder.com
Dice.com
GlassDoor.com
Monster.com
[get_segue key="ondemand_only" pos="3″]
Hiring a Facebook Ad Expert
Whether you have already put together a list of potential Facebook Ad Experts, found one through a contractor marketplace, or on one of the popular job sites, you're going to need to organize your objectives, needs, and expectations to be able to better determine if your ad expert is a good match…
First, what are your business objectives…
You need to be able to identify what you expect from your Facebook ad campaigns, but you also need to understand what the larger strategy is that requires this inbound traffic channel. If you have a firm grip on what your business objectives are, then you will have no problem putting together a definitive strategy to guide your decisions…
Next, what are your tactical needs…
You may already be managing a Facebook ad campaign that you feel needs professional support or you may have interest in expanding into more of them to meet your strategic objectives. You need to organize the requirements of what it is you need, such as the day-to-day tactical activities, in order to identify the possible person you would like to perform them…
Think about what your time frame is…
Everyone will be in different stages of their ad campaign maturity, so having already determined what your needs are to meet your objectives, you would have to now identify when your ready to hire an ad expert and determine for how long do you need their support…
A short-term commitment, which is common when you have a seasonal ad campaign that needs to be managed or you only require an ad campaign setup, is beneficial to not incur to much of an upfront cost. It also gives you the opportunity to have that level of professional availability, support, and it allows you to continue managing the day-to-day needs of the ad campaign…
If you're considering a long-term commitment, than your looking to have your strategic and tactical needs supported by someone that is dedicated to those objectives until they're met or until either of you decide otherwise. You can achieve this with a contract employment position or a full-time commitment, it just depends on what stage in your business life cycle you're currently at…
Consider what your commitment level is…
So, having given thought to whether you need short-term or long-term support from an ad expert, you need to decide on what type of benefit you're going to be offering them. If your looking to hire on a contractual basis, you don't need to think past the value of working on a challenging project and the fair payment for doing so. On the other hand, if your looking to hire someone on a more permanent basis, then, you're going to need to think about a fair salary and a benefits package that meets the level of the work that will be performed…
Difference between an agency and a person…
You have an alternative from working with a person, that is working with an agency that has a specific focus or expertise in managing Facebook ad campaigns. In this scenario, you have the value of working, not just with one person, but a group that can accomplish all the tasks necessary in setting up and managing your ad campaigns. There may be a cost premium for having this level of expertise, availability, and support, but that is something you might want to consider necessary if you want greater comfort from working with an agency level ad expert…
Recognize the obstacles of working with someone international…
You may choose to work with someone that lives and works in a different country, and even in a completely different time-zone. There is an upside cost benefit to working with someone overseas, but there is a learning curve that comes with it, some people have a hard time with it. So, understand that your first going to have an issue with the time of day that they are available to manage your ad campaigns or communicate with you. Next, you might have a language issue to overcome, but this can be further addressed during your initial conversations…
How to value experience…
From your search, you may have found ad experts that have a wide range of experiences, some vast and others not having worked with Facebook ad campaigns very much. It is important to understand that just because someone has managed many ad campaigns, that doesn't make them the right ad expert for you and your needs…
You have a very specific objective that meets the needs of your business, you might find that an ad expert with less experience fits better into the strategy that you're committed to. On the other hand, you might need a more experienced ad expert to help adjust your strategy to get better results you might not have known where possible…
Here are a list of questions to ask…
Experience:
Who are some of your previous clients?
What are the top 5 ad campaigns you've worked on?
Describe the ad campaign that you're most proud of?
How many clients / ad campaigns do you work on each month?
Strategy:
What do you think are my biggest obstacles for accomplishing my business objectives?
Understanding my business objectives, would you change anything about my strategy to achieve them?
What is the best ad campaign setup to achieve my objectives?
If you had an ad budget of $10 per day, how would you spend it?
Tactical:
Are you the ad expert or do you outsource the work?
Do you use marketing software to manage ad campaigns?
What budgets are you comfortable working with?
What is your strategy for scaling ad campaigns?
How often will you provide performance data?
How do you determine if a campaign is successful?
Here is a list of skills to look for…
Detail oriented
Strategic thinking
Growth hacking
Well versed in various marketing strategies
Facebook ad platform
Copywriting
Landing page optimization
Website analytics
You should know what is fair market value for the work…
Be mindful of what you should get from the work…
Managing a Facebook ad campaign has varying degrees of creativity and science, finding the right balance is key, but will not always produce positive results. You need to be mindful of the fact that even when you apply all the business and marketing fundamentals, ad strategies, and monitor the daily operations, you still might see negative results…
With that said, if your Facebook Ad Expert has a standardized approach to setting up or fixing a current ad campaign, they will be able to minimize losses and actually apply changes that are needed to increase the odds of success. It goes without saying, better planning will encourage better results, so, if you set reasonable expectations, than your Facebook Ad Expert can apply the best strategy to achieve the success you're looking for…
Making a choice to alleviate one or any of the symptoms that you're suffering from is the healthy first step, the logical next step is find the right person manage your Facebook ad campaigns, and finally the step that is always the hardest, is to just do it…
Entrepreneur Marketing
Made [ Easy ]
Enroll in my
FREE

9 lesson course that has helped so many other

Entrepreneurs

to...


Automate Their Marketing...


to Get More Clients...

Enter your email address